14th Annual BOLDFest Conference & Gathering Aug 30-Sept 2 2018 Coast Coal Harbour Hotel, 1180 W. Hastings St, Vancouver BC
Bernie Williams , Haida artist master carver and DTES activist, opens BOLDFest
BOLDFEST organizers Claire Robson and Pat Hogan are honoured to announce that the Conference will open on Thursday eve, August 30, in a traditional welcoming with Haida artist and master carver Bernie Williams (Gul-Giit-Jaad; Golden Spruce Woman), an enduring spirit whose life has fostered extraordinary strength and bravery. She is of St'langng Jaanas/Laanas clan in Haida Gwaii. Bernie's niece, Audrey Siegl, will be accompanying Bernie.
Bernie is also the recipient of this year's BOLD Woman of the Year Award, awarded to lesbians who have made a difference in the communities they serve. To learn more about Bernie Williams background in art, activism and building community, click here.
LUCIE BLUE TREMBLAY, Sunday Evening September 2
SAWAGI TAIKO, Canada's 1st all-female taiko drumming group Saturday Evening September 2
QUEER AS FUNK, Vancouver's 8-piece Dance Band! Friday evening, August 31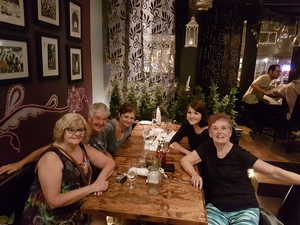 Team BOLD says "See you late August"
BOLDFest 2018 registration information here! Don't forget to sign up for our newsletter.
Get your BOLDFest T!! Be the 1st on the block!
Click here to see all our BOLDFest merchandise...
BOLD is a non-profit society registered in the Province of British Columbia Canada. Its mission is to raise the visibility of older lesbians, and to provide a venue to meet lesbians and to share information and opportunities for learning, networking, and organizing. As importantly, BOLDFest creates a safe place for lesbians to form life-long friendships, and relationships. For the last twelve years, BOLDFest - the Bold Old(er) Lesbians & Dykes Conference and Gathering - has attracted lesbians aged 40 up to 90's - and much younger women - from across Canada, the US and Australia!
We have been convening at the Coast Plaza Hotel for 13 years. In 2018 we move to a sister hotel in Vancouver the luxurious Coast Coal Harbour Hotel!. This hotel is a gay-friendly and dog-friendly hotel one block from Coal Harbour with views of water and mountains and 3 blocks from Canada Place. You'll love it!
BOLDFest
Bold, Old(er)
Lesbians & Dykes
PO Box 21510, 1424 Commercial Drive
Vancouver, BC V5L 5G2 Canada
Tel: 604-253-7189 -
Email