BOLDFest Celebrates its 15th Year, Oct 10 -13 2019
BOLDFEST IS HAPPENING! JUST INTO OUR FIRST BIG NIGHT WITH QUEER AS FUNK, THE HOTTEST BAND IN VANCOUVER. Whew! WHAT NEXT?
SATURDAY OCT 12
7:15 PM Doors Open. Cash Bar, Appetizers, Seating for Tonight's Performance
8:00 PM SAWAGI TAIKO, Canada's 1st all-women's Taiko Drummers will take your breath away with their awesome, powerful, performance. NOT TO BE MISSED!
9:00 - 11:00 pm DJ CRYSTAL is back. Another Night of Rocking on the Dance Floor! $25-$40 sliding scale. Pay online on Individual Events Page or pay at door, Cash Only.
All Events can be paid at Registration desk, 3rd Floor, CASH ONLY. Or, pay online at www.boldfest.com . See Individual Events Page. Workshops, pay at registration desk .
Dear BOLD Women,
BOLDFest 2019 is happening very soon!! Join us for a weekend guaranteed to make your lesbian heart sing! The wheels are turning to put on a grand 15th year Reunion of BOLD, OLD(er) Lesbians & Dykes, and younger friends, lovers, partners. We're raising the roof at the Coast Hotel!
Thursday eve October 10: Welcoming Reception: appetizers, cash bar, women, dancing! We're honoured to have Amanda White, 1st Nations elder, member of the Haida Nation, Knowledge Keepr for the Vancouver Indigenus Education Dept. of the Vancouver School Board who will Welcome and Open BOLDFest's 15th year.
WORKSHOPS Friday Morning/Afternoon, Saturday Morning. See Workshop page
Friday eve October 11: Appetizers, cash bar, women,

QUEER AS FUNK DANCE BAND

,

followed by DJ Slade!
Saturday eve Oct 12: Appetizers, cash bar, women,

SAWAGI TAIKO WOMEN DRUMMERS!,

followed by dancing!
Sunday eve Oct 13: Social Hour, cash bar, Buffet Dinner, followed by FERRON, Vancouver-born Singer/Songwriter/Lesbian Legend! We're so, so happy to have Ferron with us!
Workshops throughout the weekend offer the opportunity tostimulate discussion, challenge us, open up to new ideas... and much more! See workshop page.
BOLDFest registration can be paid online or by mailing cheque/check. Click on Registration Page here. If paying by PayPal PLEASE also fill out the application and email to info@boldfest. It saves us time!
Make a reservation at the Coast Coal Harbour Hotel. If you'd like to share a room /cut costs, mail request to info@boldfest.com. We'll put you in touch with others seeking same. We do not arrange roommates.
Love and see you soon....from TEAM BOLD!
FERRON
Sunday Evening October 13, 2019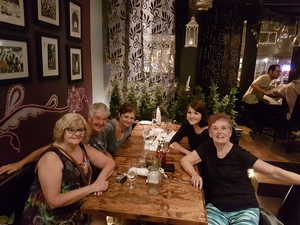 Team BOLD says "See you in October 2019!
Get your BOLDFest T!! Be the 1st on the block!
Click here to see all our BOLDFest merchandise...
BOLD is a non-profit society registered in the Province of British Columbia Canada. Its mission is to raise the visibility of older lesbians, and to provide a venue to meet lesbians and to share information and opportunities for learning, networking, and organizing. As importantly, BOLDFest creates a safe place for lesbians to form life-long friendships, and relationships. For the last twelve years, BOLDFest - the Bold Old(er) Lesbians & Dykes Conference and Gathering - has attracted lesbians aged 40 up to 90's - and much younger women - from across Canada, the US and Australia!
We have been convening at the Coast Plaza Hotel for 13 years. In 2018 we move to a sister hotel in Vancouver the luxurious Coast Coal Harbour Hotel!. This hotel is a gay-friendly and dog-friendly hotel one block from Coal Harbour with views of water and mountains and 3 blocks from Canada Place. You'll love it!
BOLDFest
Bold, Old(er)
Lesbians & Dykes
PO Box 21510, 1424 Commercial Drive
Vancouver, BC V5L 5G2 Canada
Tel: 604-253-7189 -
Email