IT'S A VIRTUAL BOLDFEST !!
Bold, Old(er) Lesbians & Dykes
and younger lovers and friends
VANCOUVER BC Canada
July 2021
Time now to join new and old bold friends online. Workshops, socials, performances and more... until we're able to meet in person (late Fall 2021? early 2022?)
Living in the Age of Covid
Saturday July 10th 11am-1pm PDT
Facilitators: Carolyn Anderson/Canada & Beth Kneller/US
Sliding Scale: $0-$25
BOLDfest Pride Dance: DJ Spinintonic aka Alison Gorman from Queer as Funk!!
Sunday July 11th 7pm-8pm PDT
Sliding Scale: $0-$25
BOLD Women Coffee n' Chat
Tuesday July 13th 2pm-4pm PDT
Facilitators: Pat Hogan, Carolyn Anderson, & Shilpa Narayan
Sliding Scale $0-$15
MORE TO COME!
REGISTER HERE:
Love from Team BOLD
FOND MEMORIES FROM 2019 BOLDFest
FERRON
returned to her home town to a crowd of women who've followed her music and her life for years. Introduced first by her indigenous women friends, speaking in their own language, Ferron's performance was all that we could have wished for. Thank you dear Ferron. May your songs, your heart, your presence be with us for many years to come.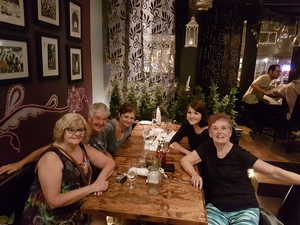 Team BOLD says "See you ONLINE!
Get your BOLDFest T!! Be the 1st on the block!
Click here to see all our BOLDFest merchandise...
BOLD is a non-profit society registered in the Province of British Columbia Canada. Its mission is to raise the visibility of older lesbians, and to provide a venue to meet lesbians and to share information and opportunities for learning, networking, and organizing. As importantly, BOLDFest creates a safe place for lesbians to form life-long friendships, and relationships. For the last twelve years, BOLDFest - the Bold Old(er) Lesbians & Dykes Conference and Gathering - has attracted lesbians aged 40 up to 90's - and much younger women - from across Canada, the US and Australia!
BOLDFest
Bold, Old(er)
Lesbians & Dykes
PO Box 21510, 1424 Commercial Drive
Vancouver, BC V5L 5G2 Canada
Tel: 604-253-7189 -
Email