BOLDFEST
October 8-11 2020 ???? Coast Coal Harbour Hotel
VANCOUVER BC
To our BOLD women friends near and far,
As you might have guessed, the possibility of having a full BOLDFest this year is looking doubtful due to the many Covid19 safety restrictions - travel (provincial borders and US border), size of groups allowed in public places, hotel protocols, and much more. We've been following what's possible and what isn't before putting anything out here, and now it's time to talk.
WHAT'S HAPPENING TO DATE: please know that we are working on the possibility of having both virtual BOLD meet-up groups, workshops and discussions as well as in-person groups and workshops in small numbers. All of this is in the beginning stages; we will post information here, in our newsletter, as well as on BOLD's Facebook page when we have more information to share.
In the meantime, if you haven't signed up yet for our newsletter (bottom of this page), please do. As well, join us on our facebook page at https://www.facebook.com/groups/7738928258/
Thank you so much for your understanding and especially for the support we've received from some of our long-time (and newer) BOLDFest women! We look forward to meeting up with you - in whatever form it may be for the time being - and know that BOLDFest is not going away! We're community!!
Love from the Team BOLD gang
FOND MEMORIES FROM 2019 BOLDFest
FERRON
returned to her home town to a crowd of women who've followed her music and her life for years. Introduced first by her indigenous women friends, speaking in their own language, Ferron's performance was all that we could have wished for. Thank you dear Ferron. May your songs, your heart, your presence be with us for many years to come.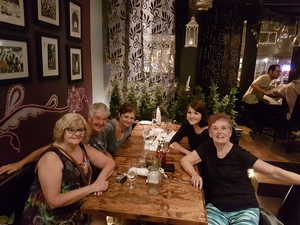 Team BOLD says "See you in October 2020!
Get your BOLDFest T!! Be the 1st on the block!
Click here to see all our BOLDFest merchandise...
BOLD is a non-profit society registered in the Province of British Columbia Canada. Its mission is to raise the visibility of older lesbians, and to provide a venue to meet lesbians and to share information and opportunities for learning, networking, and organizing. As importantly, BOLDFest creates a safe place for lesbians to form life-long friendships, and relationships. For the last twelve years, BOLDFest - the Bold Old(er) Lesbians & Dykes Conference and Gathering - has attracted lesbians aged 40 up to 90's - and much younger women - from across Canada, the US and Australia!
We have been convening at the Coast Plaza Hotel for 13 years. In 2018 we move to a sister hotel in Vancouver the luxurious Coast Coal Harbour Hotel!. This hotel is a gay-friendly and dog-friendly hotel one block from Coal Harbour with views of water and mountains and 3 blocks from Canada Place. You'll love it!
BOLDFest
Bold, Old(er)
Lesbians & Dykes
PO Box 21510, 1424 Commercial Drive
Vancouver, BC V5L 5G2 Canada
Tel: 604-253-7189 -
Email