CONFIRMED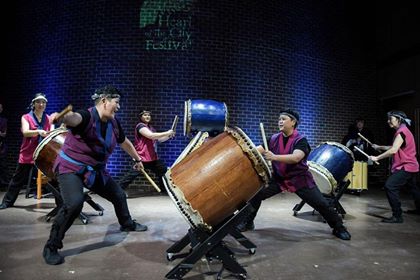 1. Preserving Our History at The Archives of Lesbian Oral Testimony

Historian Elise Chenier has been recording the life experiences of same-sex attracted women since the early 1990s. For the past decade she has been putting oral testimonies online at alotarchives.org so that anyone with a high-speed internet connection can access these rich historical records. In this session, Elise will report on the results of a recent project aimed at bridging the gap between the Archives and the broader community. Come find out about what it means to put our heritage online, and how you can participate in making history through oral testimony.
2. Intergenerational Dialogue Continues
What's new in the LGBTQ2S+ community since last BOLDFest? What are young/er women's concerns, visions, hopes?? What do older lesbians want younger women to know? Share projects happening with youth and elders in your community.
3. Zumba Gold
Dance/move at your own speed to Latin beats led by Zumba/Fitness Instructor Denise Galay, whose high energy and brilliant smile brings BOLDFestees up a notch or two.
4. Finances and the Older Lesbian. More info TBA
5. Film Screening and Q&A with Lorna Boschman, Filmmaker, Researcher, Community Artist/Activist.
In 2016, Lorna was chosen by a jury of her peers as Vancouver's Mayor's Arts Awards honouree in Film & New Media. Lorna is probably best known for her work in the 1990s as director of three collaborations with the notorious Kiss & Tell collective. This screening will feature more recent digital storytelling collaborations, including work with LGBT2Q people diagnosed with breast or gynecologic cancer, and with Vancouver's Mount Pleasant residents for the Urban Screen project. Let's talk about collaboration and community-based art production.
6. Comedy Workshop with BOLDFest's own CLAIRE ROBSON
Gotta Pee and other urgent matters: A comedy workshop with Claire Robson
Getting old is not for the fainthearted, but it sure has its funny side, and this is what we'll explore in this workshop. Standup comedy is all about noticing and naming those things that we notice every day but often don't talk about. Naming them out loud can be both killer funny and emotionally liberating. In this collaborative workshop, we'll begin by talking together about the funny side of getting old, then turn our ideas into short standup routines. Each person will get the chance to perform. If you've never done standup before, this is your chance to try it out with supportive BOLD compañeras.
Claire Robson is expert in faking it till she makes it. The numerous roles she's performed include academic presenter, researcher, author, performance poet, emcee, memoirist, percussionist, activist, assistant principal, workshop facilitator, teacher, dog handler, and standup comedian. So far, no one has called her bluff.
7. LGBTQ Elder Care Communities
8. Lesbian Karaoke!! A spontaneous happeningat BOLDFest 2017....and what a hoot!! So we're gonna make sure it happens again. Bring your fave music!
BOLDFest Extra Activities/Extra Cost (see registration form)
Harbour Boat Cruise Wed August 29, 6:30 – 9:30 pm Granville Island (maximum 70). See registration form for Early Bird Special 'til May 1. $55 pp Food,Music, Dancing, Coast Views, Wimmin!
Solos Meet n' Greet, Thurs August 30, 5:30 - 7:00 pm (maximum 20; reserved for BOLDFest registrants)
Walking Tour with Jolene Castillou Cumming Sat afternoon, Sept 1(maximum 20) $20 (details on website
Introduction to Dragonboating, Sat fternoon, Sept 1, Granville Island