The 14th Annual BOLDFest!
Thursday Aug 30 through Sunday Eve Sept 2, 2018 Vancouver British Columbia Canada
A Conference & Gathering for/by bold, old(er) lesbians & dykes and younger friends and partners
4 nights of entertainment, dancing, cash bar, appetizers, women!
3 days of diverse workshops, discussions, outdoor activities
Save Labour Day Weekend 2018! Join us for one of the best weekends your lesbian/dyke heart could hope for.
Coast Coal Harbour Hotel 1180 W Hastings St, Vancouver, BC V6E 4R5
COAST COAL HARBOUR HOTEL is located in downtown Vancouver, one block from the waterfront, Canada Place and Coal Harbour eateries, near to Stanley Park and knock-out mountain views . An ideal place for walks, trains, galleries, shopping,and much more.
Important: Comfort Rooms with special BOLDFest rates are now full but the hotel has lowered their Superior room rates to us for a limited # of rooms. These rooms are larger, with either king bed or 2 doubles for sharing/cutting costs. Click here to book hotel room. (see page 2 of registration form).
note: by staying at the Coast Coal Harbour Hotel,you're helping BOLDFest keep our conference fees down as low as possible. Thank you for supporting BOLDFest! Do you want/need a roommate and share hotel costs? Contact info@boldfest.com. We'll put you in touch with others seeking same.
We look forward to welcoming back our wonderful tribe of BOLDFestees from across Canada and the US over the past 13 years. And welcome all the new women joining us this year! CLICK HERE to register 4 BOLDFest 2018.
Thank you for supporting Lesbian Culture!
Just announced! LUCIE BLUE TREMBLAY, Sunday Evening September 2
SAWAGI TAIKO Saturday evening September 2 Canada's 1st all-female taiko drumming group
QUEER AS FUNK, 8-piece Dance Band! Friday evening, August 31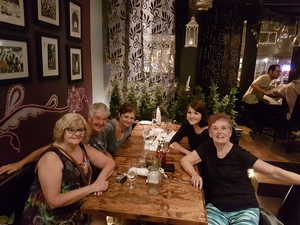 Team BOLD says "See you late August"
BOLDFest 2018 registration information here! Don't forget to sign up for our newsletter.
Get your BOLDFest T!! Be the 1st on the block!
Click here to see all our BOLDFest merchandise...
BOLD is a non-profit society registered in the Province of British Columbia Canada. Its mission is to raise the visibility of older lesbians, and to provide a venue to meet lesbians and to share information and opportunities for learning, networking, and organizing. As importantly, BOLDFest creates a safe place for lesbians to form life-long friendships, and relationships. For the last twelve years, BOLDFest - the Bold Old(er) Lesbians & Dykes Conference and Gathering - has attracted lesbians aged 40 up to 90's - and much younger women - from across Canada, the US and Australia!
We have been convening at the Coast Plaza Hotel for 13 years. In 2018 we move to a sister hotel in Vancouver the luxurious Coast Coal Harbour Hotel!. This hotel is a gay-friendly and dog-friendly hotel one block from Coal Harbour with views of water and mountains and 3 blocks from Canada Place. You'll love it!
BOLDFest
Bold, Old(er)
Lesbians & Dykes
PO Box 21510, 1424 Commercial Drive
Vancouver, BC V5L 5G2 Canada
Tel: 604-253-7189 -
Email