Announcing the 14th Annual BOLDFest
Thursday Aug 30 through Sunday Sept 2, 2018
Save Labour Day Weekend 2018 for one of the best weekends your lesbian/dyke heart could hope for.
We're excited about our new venue at the COAST COAL HARBOUR HOTEL on West Hastings Street (@ Bute) in downtown Vancouver and so delighted to continue our relationship with the "Coast Hotel Family". CLICK HERE to reserve your hotel room with BOLDFest special rates (only $10 more since 2017!). See if you can discover something very special about these rooms. (psst) First in the country!
BOLDFest registration form will be online shortly. Thanks for your patience; we're happy many of you are interested in returning as well as those coming for the first time! Thank you!
CONFIRMED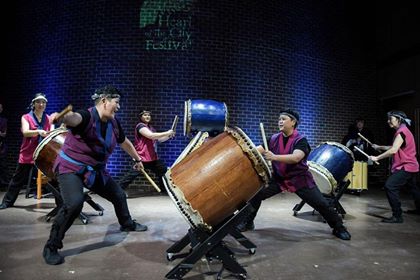 SAWAGI TAIKO DRUMMERS
The first all-women's taiko group in Canada formed in 1990




QUEER AS FUNK
EastVan's 8-piece Dance Band

*************************************************************************

WORKSHOPS
Workshop titles and descriptions will be on website (www.boldfest.com) during the next few months.


What's a burning issue wanting to be discussed among bold, older lesbians? What do we need to learn nowadays? What else? Let us hear your thoughts!




************************************************************************

BACK by popular request

Intergenerational Dialogue, Zumba Gold,
Lesbian Karoake (start practicing!)
Film Screening TBA

BOLDFest Extra Activities/Extra Cost
Solos Meet n' Greet, Thursday 5:30 - 7:00 pm (maximum 20)
Walking Tour with Jolene Castillou Cumming. Click here for description and details (maximum 20)
Intro to Dragonboating. Saturday Afternoon, False Creek
Look for BOLDFest 2018 registration information on this site soon! Don't forget to sign up for our newsletter.
Get your BOLDFest T!! Be the 1st on the block!
Click here to see all our BOLDFest merchandise...
BOLD is a non-profit society registered in the Province of British Columbia Canada. Its mission is to raise the visibility of older lesbians, and to provide a venue to meet lesbians and to share information and opportunities for learning, networking, and organizing. As importantly, BOLDFest creates a safe place for lesbians to form life-long friendships, and relationships. For the last twelve years, BOLDFest - the Bold Old(er) Lesbians & Dykes Conference and Gathering - has attracted lesbians aged 40 up to 90's - and much younger women - from across Canada, the US and Australia!
We have been convening at the Coast Plaza Hotel for 13 years. In 2018 we move to a sister hotel in Vancouver the luxurious, still friendly Coast Coal Harbour Hotel!. This hotel is still a gay-friendly and dog-friendly hotel one block from Coal Harbour with views of water and mountains and 3 blocks from Canada Place. You'll love it!
© copyright 2012 - 2018 | BOLDFest - all rights reserved
site/BOLDFest logo by www.carolweaver.com
BOLDFest
Bold, Old(er)
Lesbians & Dykes
PO Box 21510, 1424 Commercial Drive
Vancouver, BC V5L 5G2 Canada
Tel: 604-253-7189 -
Email