BOLDFest 2019 is in the works!
Save Oct 10-13, 2019! Join other lesbians & dykes from across Canada, the US and and internationally to celebrate 15 years of lesbian lives and culture.
Coast Coal Harbour Hotel, 1180 W. Hastings St, Vancouver B.C.
Dear bold women,
We ask for your patience while we're working out the details for BOLDFest 2019; in the meantime, do PLAN on being with us! FYI, we've had to move the date from September to October as availability for hotels that have the conference space we need was nil in September. October is a pleasant time to visit Vancouver and for out-of-town participants who plan to extend their stay, there's many events, much to do that time of year (well, really, all the time in Vancouver!) which you may be interested in. Information will be available at a later date.
There was a great response to our online evaluation questionnaire on BOLDFest 2018 and we thank everyone for their comments and suggestions. We take them all to heart and in our planning for the next year.
The past year's workshops, performers and other activities are still up on this website for the time being which newcomers can view to get a sense of the awesome program BOLDFest offers.
If you have questions, please email info@boldfest.com.
See you next year!
Click here to view our lineup of WORKSHOPS and presenters from last year...for a glimpse of the interesting, entertaining, thought provoking and just plain fun eventsthe conference offers.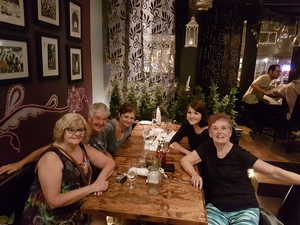 Team BOLD says "See you mid October 2019!
Get your BOLDFest T!! Be the 1st on the block!
Click here to see all our BOLDFest merchandise...
BOLD is a non-profit society registered in the Province of British Columbia Canada. Its mission is to raise the visibility of older lesbians, and to provide a venue to meet lesbians and to share information and opportunities for learning, networking, and organizing. As importantly, BOLDFest creates a safe place for lesbians to form life-long friendships, and relationships. For the last twelve years, BOLDFest - the Bold Old(er) Lesbians & Dykes Conference and Gathering - has attracted lesbians aged 40 up to 90's - and much younger women - from across Canada, the US and Australia!
We have been convening at the Coast Plaza Hotel for 13 years. In 2018 we move to a sister hotel in Vancouver the luxurious Coast Coal Harbour Hotel!. This hotel is a gay-friendly and dog-friendly hotel one block from Coal Harbour with views of water and mountains and 3 blocks from Canada Place. You'll love it!
BOLDFest
Bold, Old(er)
Lesbians & Dykes
PO Box 21510, 1424 Commercial Drive
Vancouver, BC V5L 5G2 Canada
Tel: 604-253-7189 -
Email